Fitness Classes at St Mary's Calne Sports Club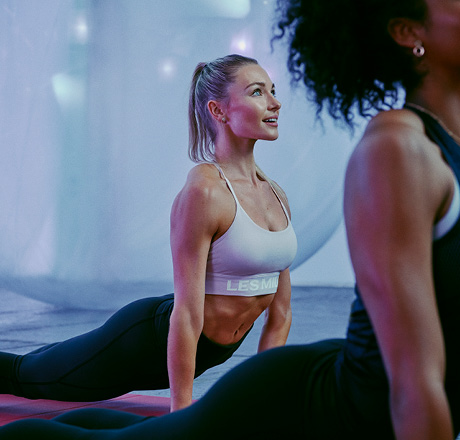 Your declaration to us
By visiting and entering St Mary's Calne Sports Club, you are agreeing to make a COVID-19 health declaration to confirm that:
You or any members of your household do not have any COVID-19 symptoms.
You or any members of your household have not had a positive test result within the last 10 days.
You or any members of your household are not awaiting a Coronavirus test result.
To the best of your knowledge, you have not been in close contact with anyone showing signs of Coronavirus symptoms.
All members and guests are also expected to adhere to social distancing and to follow the new advice and protocols provided by the Sports Club.
COVID-19 Guidelines and Procedures
The club has now reopened following the latest UK Government lockdown. The health and safety of our members, guests and staff continues to be our number one priority. As such, there are new procedures and protocols now in place to ensure the sports centre remains 'COVID Safe'. Details relating to group exercise can be found below.
• Access to fitness classes will be denied if you late for your session booking. Please arrive 5 minutes prior to the advertised class start time and wait to be instructed by a member of staff.
• Please maintain social distancing while queuing for your fitness class.
• Please inform us if you are not able to attend your fitness class as spaces are limited. You can call us on 01249 857335 or you can cancel via Leisure Hub.
Group Fitness at St Mary's Calne Sports Club
At St Mary's Calne Sports Club we offer a wide range of group exercise classes. Members have access to an unlimited amount of classes with no extra charge.
The group aerobic activities are a great way to achieve your personal goals, increase your energy levels and reduce stress. All classes are led by a highly qualified and motivated exercise-to-music instructor and are a 'must try' experience for all. Fitness classes are open to all adults aged 16 years and above unless otherwise stated.
If you would like any further information please do not hesitate to contact reception.


Class Booking Information
Club members can book seven days in advance using the Leisure Hub online booking system (found on the St Mary's Health App), in person or by calling 01249 857335. The terms and conditions are different for the booking of courses. Please refer to the courses page for relevant T&C's.
Fitness Classes 
Throughout the recent lockdown, our amazing group exercise team have been providing daily workouts on our social media platforms, which have been well received by our members and followers. Now that the Sports Club is open fully, our in house group exercise programme has re-launched, so we can once again offer over 40 of your favourite fitness classes every week, face to face!
Take a look at our group exercise programme here!
Our weekly online fitness class timetable has therefore now ended, however you can still workout at home or on the go with our friends over at Les Mills. Use our partner link below for an exclusive discount on your monthly subscription!


Sports Club members can also still access Les Mills On Demand and receive an exclusive partner discount on your membership fee (just £7.94 per month). Click here to sign up and start working out at home right away! 


Are you ready for exercise? Please ensure you read the Health Commitment Statement before the class starts.
Wear appropriate clothing and make sure your footwear is designed for the activity. 
As a courtesy to others and for health and safety reasons, please arrive 5 minutes before the class start time to set up. We will refuse access to anyone arriving after the class has started.
Drink plenty of water during and after the class. Never exercise after a heavy meal. A light carbohydrate snack is ideal.  
Inform your instructor of any medical condition, medication, injury, ante/post natal or illness. Never exercise when feeling unwell. 
Under 16s are not permitted to participate in any fitness classes.
Cancellation Policy
A cancellation fee will be charged if you cancel within 2 hours of the class start time. The cancellation fee for all classes is £4.00. Please refer to the cancellation and refund policy in Reception for more details.
Group Fitness Etiquette Policy
To ensure a comfortable and enjoyable atmosphere, please be courteous and respectful of others whilst visiting for a group exercise class. We ask you to please follow the etiquette guidelines below:
 This is a school facility shared with the community so please be aware that school children may be attending fitness classes during community use sessions.
 Please ensure you have completed a Physical Activity Questionnaire or have signed the Health Commitment Statement before you attend a fitness class. It is essential that the fitness class instructor is made aware of any considerations that may affect you prior to your participation in the class (including pregnancy).
 All users must produce a membership card and register their attendance at reception or by using the quick kiosk prior to admission to the fitness class.
 Please note that due to health and safety, children must not wait in or around the class studio whilst parents/guardians exercise.
 Class participants must check in at least 5 minutes before the class starts otherwise you will miss the warm up which is an essential part of the class. The Sports Club reserves the right to refuse admission if you do not arrive in time for a sufficient warm up.
 In the interest of hygiene, please do not bring a sweat towel. Instead please use the disposable blue towels we provide.
 No glass drinks bottles should be brought into the class, only plastic closed lid containers are permitted. Please report any accidental spillages to the instructor immediately.
 We advise that you do not consume a large meal within 2 hours of the class start time or one hour for lighter meals.
 You are not permitted to chew gum during the class.
 Please ensure that correct clothing and non-marking footwear are worn at all times.
 In the event of an emergency or the fire alarm sounding, please follow the directions of the instructor and leave by the nearest fire exit.
 The management/instructor reserves the right to refuse entry to the exercise class. Anyone under the influence of alcohol or drugs will be asked to leave the class.
 Personal hygiene is of utmost importance within the class environment as this also has an effect on other class members.
 Mobile phones must be placed on silent or turned off throughout the duration of the class.
 Floor space must not be reserved at any point prior to a class.
 Floor position will be on a first come, first served basis.
 Please do not use inappropriate language as it may be distracting and offensive to others.
 Please do not drop weights from a height or drag equipment along the dance studio floor. (e.g. barbells).
 Please remove hats or hoods before entering the dance studio.
 Please be aware that strobe lighting may be used in some fitness classes. Please let a member of staff know if you are sensitive to strobe lighting.
 All fitness classes are strictly for members over the age of 16.
 All fitness classes must be booked in advance.
 Club members can book 7 days in advance either in person, over the phone or by using the 'St Mary's Health' app that can be found in the app store.
 A cancellation fee of £4.00 will be charged if you cancel within 2 hours of the class start time or fail to turn up.