From Monday 19th July, some of our COVID-19 policies have changed following our recent move in to step 4 of the roadmap out of lockdown. Some procedures and booking policies will remain in place until further notice. More information can be found below regarding what this means for all club members and guests.

Swim & Fitness Class Booking
Currently, the booking system will remain in place for the swimming pool and all group exercise classes. For the comfort of all bathers, our maximum capacity for member swim sessions will remain the same until further notice. No pre-booking is required for the fitness suite.
Changing Rooms and Showers
We are pleased to announce that from Monday 19th July we will re-open our shower cubicles and changing rooms to all customers (including gym users). Hair driers and hand driers will also be available to use from this date. Please be aware that the 2 meter social distancing policy will no longer be in effect, in line with the updated government guidelines.
One-Way System
The one-way system in the fitness suite is being removed from Monday 19th July. Please be aware the one-way system for the swimming pool and fitness classes remains in place. Swimmers will still be required to place all belongings in the spectator zone and then continue to proceed to the ladies/ gents/ disabled or family changing room following your swim session.
Group Exercise Update
All group exercise classes will remain in the sports hall until further notice. We will be reviewing this over the coming weeks and aim to have a phased return to the upstairs dance studio over the Summer. We are currently welcoming feedback from members and guests to ensure the move back to the dance studio is comfortable for all.
Gym Towel Policy
We have reviewed our current gym towel policy and sports club members can now bring their own gym towel when visiting for a fitness class or gym session. Please can customers ensure all equipment is cleaned and sanitised following your workout using our sanitising spray and disposable hand towels. Thank you.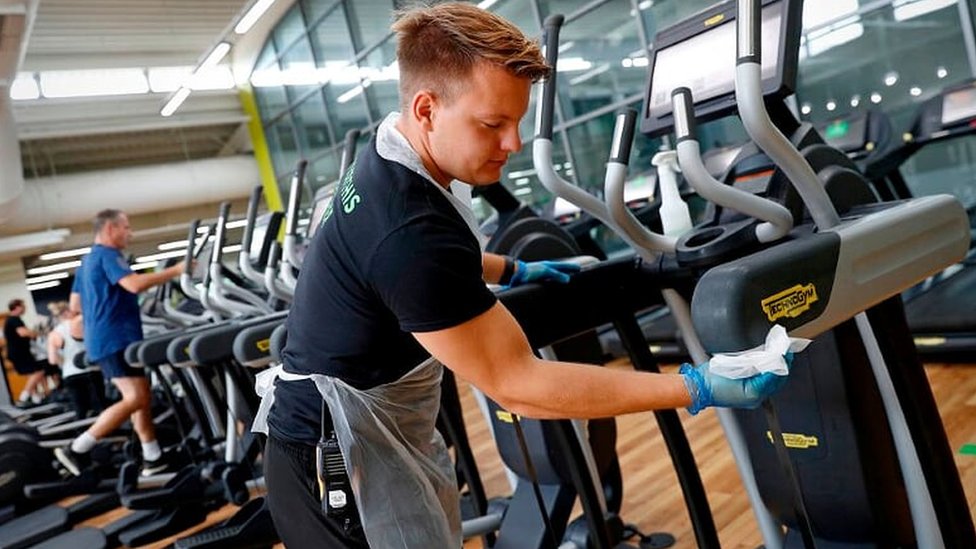 Additional Cleaning
Our additional routine cleaning schedule, hand sanitising zones, disinfectant sprays and disposable towels will remain in place around the Sports Club. We will continue to operate a regular deep cleaning schedule throughout the Summer programme.
We appreciate the support of our valued members and guests throughout the pandemic. We welcome feedback regarding our existing and future COVID-Safe practices, particularly as we enter step 4 of the roadmap out of lockdown. Please respond to this email if you would like to get in touch.
Whilst we have reduced our COVID guidelines, we kindly request that all members and guests please respect the personal space of others when visiting the club.
 Thank you

St Mary's Calne Sports Club
FAQs
We have provided answers below to a range of frequently asked questions and we would like to encourage all members and guests to read the information below as we transition out of lockdown.
If you have questions that remain unanswered, please contact us via email This email address is being protected from spambots. You need JavaScript enabled to view it. or call 01249 857335.
Health Declaration
Your declaration to us:
By visiting and entering St Mary's Calne Sports Club, you are agreeing to make a COVID-19 health declaration to confirm that:
You or any members of your household do not have any COVID-19 symptoms.
You or any members of your household have not had a positive test result within the last 10 days.
You or any members of your household are not awaiting a Coronavirus test result.
To the best of your knowledge, you have not been in close contact with anyone showing signs of Coronavirus symptoms.


Are your opening hours changing?
No, our opening hours have not changed and you can enjoy the facilities during our regular pre-lockdown opening times which can be found below.
Monday to Friday – 06.30am–9.30pm
Saturday – 7.00am-7.00pm
Sunday – 7.30am-7.30pm

Will I need to book?
As highlighted above, currently pre-booking will remain in place for the Swimming Pool and Group Exercise Classes. For gym users, we no longer require you to pre-book your gym session and you can arrive at your convenience.
Each activity has its own maximum capacity, in order to adhere with industry guidelines and social distancing protocols. You can use our brand new 'St Mary's Health' app to book all activities and sessions.
Sign up for your new booking account here –https://stmaryssportscentre.co.uk/LhWeb/en/Account/Register
Download the app – Search for 'St Mary's Health' in the Apple or Android store.
What are you doing to protect customers and visitors?
Social distancing
Social distancing will no longer be mandatory within the Sports Club, however we would like to kindly request that all visitors respect the personal space of others whilst using our facilities. This is to ensure a comfortable environment is maintained for all users.
Hygiene and Sanitisation
As well as more regular routine cleaning and allocated disinfecting times by Sports Club staff, we have provided sanitising spray, disposable hand towels, hand sanitising gel and anti-bacterial hand soap in all locations around the club. Before you enter the Sports Club and as you use the facilities, we expect all customers to frequently maintain personal hygiene and hand sanitising.
We have had our hot and cold water facilities inspected, tested and serviced regularly during the lockdown period and will continue to do so when we reopen. The water fountain is safe to use, but you must bring a refillable water bottle and not drink directly from the fountain.
The HSE (Health and Safety Executive) have confirmed that the risk of air conditioning spreading Coronavirus (COVID-19) is extremely low. We do not have an air conditioning system that recirculates air at the Sports Club, but instead our systems provide a fresh air supply from outside.
Fitness Suite
You no longer are required to pre-book your gym session, and you may arrive for a gym session whenever is convenient for you as we have removed the hourly gym programme.
You are also now permitted to bring a sweat towel, but we request that all visitors use the disinfectant spray and disposable hand towels provided by us to clean all equipment after use.
Fitness Classes
Currently, group exercise classes will continue to take place in the Sports Hall. Please do not enter through the main entrance, but proceed immediately to the hall via the side door, following the signage.
We have set up custom workout stations for each participant and you will be expected to disinfect your workout station before and after every workout. 
As above, you are also now permitted to bring a sweat towel, but we request that all visitors use the disinfectant spray and disposable hand towels provided by us to clean all equipment after use.
Some class times have also had to be altered to allow a longer changeover between classes. Please arrive no more than 5 minutes before the start of your class. See our new class timetable for more information.
Swimming Pool
We are following regularly updated advice from our friends at PWTAG (Pool water treatment advisory group), who are providing the latest information with regard to the safety of swimming pools and the risk of transmission of COVID-19. Upon the most available research, PWTAG confirm that Coronavirus would be inactivated at the levels of chlorine in swimming pools. The World Health Organisation has also confirmed that swimming in a well maintained, properly chlorinated pool is safe.
Following recent feedback from our members and guests, currently we still require all members to pre-book their member swim or family swim sessions. The hourly booking system remains in place and all sessions can be booked via Leisure Hub, in person or over the phone by calling 01249 857335.
Children are permitted to swim during our scheduled 'Family Swim' sessions. These sessions are limited to a maximum of 5 people per family (from the same household). Please see our swimming pool timetable for details.
Changing
From Monday 19th July, all sports club members are permitted to use the main changing rooms, including gym and fitness class attendees.
If you are arriving for a Member Swim or Family Swim, you will still enter the changing rooms directly opposite the main entrance. We kindly ask that you continue to take all belongings with you to poolside while you swim and then change and exit using the main ladies/mens/family or disabled changing room.
For Swim School customers, we are still operating a 'beach style' changing system where you ideally arrive at the Sports Club with your swimwear underneath your other layers. Please follow the one way systems and use the designated belongings zones on the side of the swimming pool for all possessions and clothing. Normal swimming and supervision policies apply.
Normal swimming and supervision policies apply.


Showers
From Monday 19th July, all shower cubicles will re-open. Swimmers must use the showers in the ladies/mens or disabled changing room following your swim. Alternatively, please use the communal showers. Do not return in to the pupil changing area following your swimming session.
How do I book a swim session or group exercise class?
Booking is essential for the swimming pool and all fitness classes. We operate a 7 day book ahead policy which operates on a first come, first served basis. Unfortunately we do not operate a waiting list, but instead you can set up an automated email alert on our new app which will notify you should a place become available.
You can make all bookings through the 'St Mary's Health' App, which is accessible to all members and can be found in the Apple or Android Store. From here you can book all fitness classes and swimming sessions.
If you had our previous St Mary's Mywellness App, you will need to create a brand new account to be able to access our new booking system. The link can be found below.
Alternatively please call us on 01249 857335. Please note our phone lines will not be open for booking until Monday 12th April 2021.
Click here to register your new St Mary's Health bookings account https://stmaryssportscentre.co.uk/LhWeb/en/Account/Register
What about staff training?
All staff have received our COVID-19 reopening training, to reassure them about the new procedures and processes that have been introduced. All lifeguards and first aiders have had upskill refreshers following the latest Coronavirus advice by RLSS (The Royal Life Saving Society), in addition to health and safety training upon their return to work.
Should you need assistance or treatment by a member of staff, please do not be alarmed by any personal protective equipment (PPE) they may be wearing. Customers may also be requested to use a face shield or mask, upon the need of urgent attention.
Personal protective equipment and disposable cleaning materials are available for all members of staff and all team members will be encouraged to wash and sanitise their hands before the start of and throughout their shift.
What about Swim School?
The St Mary's Swim School is operating as normal and we are taking bookings for new swimmers. Full details about our new Swim School procedures can be found here - http://smcsports.co.uk/index.php/swim-school.
If you have any questions about Swim School please email us: This email address is being protected from spambots. You need JavaScript enabled to view it.
Thank you